The unit size and fitting type are the main factors that determine price of HDPE fittings in Kenya.   This implies that the quantity required will depend on the type of HDPE fitting you purchase. Another factor is the quantity of fittings you purchase. When you purchase in large quantity, the price will often be lower. This implies that you will spend more when you buy less and vice versa. Size is a problem since the fittings come in a variety of sizes. These fittings come in diameters ranging from 20 mm to 315 mm. Aqua Hub provides quality HDPE fittings at affordable prices.
HDPE fittings
HDPE pipe fittings are used to join HDPE pipe. The fittings help to reinforce both water and gas pipes. They connect HDPE pipes that carry fluids such as water and gas. They are especially dependable in high-pressure applications such as mining, irrigation, plant engineering, and municipal drinking water systems. A stainless steel ring, for example, wrapped around such a fitting will provide optimum durability.
HDPE fittings Price in Kenya
We supply all the HDPE fittings that you may want. Depending on the quantity ordered, we have retail and wholesale rates. HDPE pipe Fittings are components that change the direction of water flow, increase or decrease the volume of water flow, or entirely halt water flow. Their pricing is frequently determined by unit size. Fittings with larger diameters will be more expensive than those with lower sizes. A 125 mm diameter fitting, for example, is more costly than a 32 mm diameter fitting. Fittings, also known as connectors, are used to connect pipes to tanks and pumps, among other things.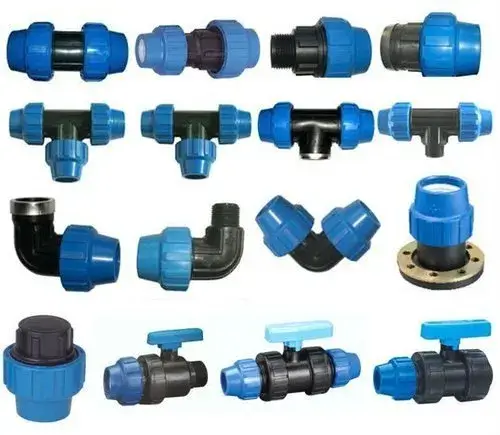 Categories of HDPE Fittings
Adaptor Fittings
For the adaptors, we have both male and female adaptors. The adaptors are used to join different pipes together.
Coupling Fittings
They are employed to address broken issues like pipe leaks. Compression and slip couplings are available. In order to stop leaks, compression coupling joins two pipes with the use of a rubber. By moving the inner pipe into some length, slip coupling eliminates damage to extended lengths.
Connector Fittings
For the connectors, we have both equal and reducing connectors. Equal connectors join pipes of equal sizes, whereas reducing connectors connect pipes of varying diameters.
Tee Fittings
There are equal, reducing, male, and female tees. The same-sized pipes are connected by equal tees. Tanks, valves, and other types of pipes are connected to pipes using threaded (male & female) tees. Pipes of various diameters are connected by reducing tees.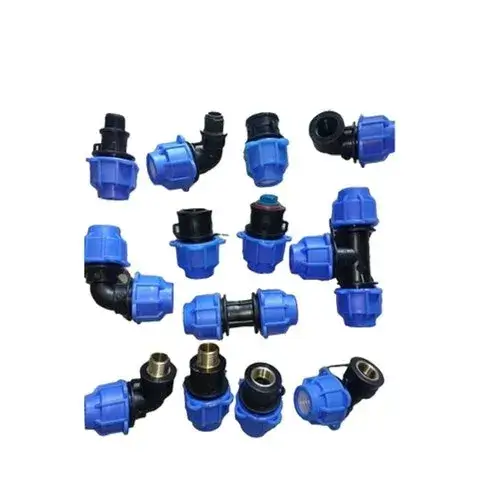 Elbow Fittings
For the elbow we have both male, female and equal elbow. It comes in 25, 40, and 90 degree options. It is applied to shift the water flow's direction.
End cap Fittings
End caps in a variety of sizes. They cork or shut the pipe at the end to restrict water flow. Often used to seal a pipe when no further connections are required.
Valve Fittings
They function similarly to water taps. The work is to control the amount of pressure that enters the pipes. They may be switched on and off to enable or prevent water flow into the pipes.
Cross Fittings
They are four vents that are perpendicular to each other and open in all directions. They are utilized when four pipes come together at the same spot.
Bushing Fittings
Reduces the diameter of a pipe. Unlike reducers, they make adjustments instantly and take up less space.