Reducing Tee
Reducing Tee is a type of pipe fitting that joins three sections of pipe at a 90-degree angle, two of the same diameter and one that has branched out from the larger pipe to a smaller diameter.
Description
Another form of pipe tee seen in pipe and tube fittings is the reducing tee. Pipe Tees come in two types. Standard tees, which have all outlets of the same size. Then reducing tees, which have a mix of different outlet sizes.
The reducing tee, like all pipe tees, has T shape with two equal ends and one significantly smaller. To put it another way, a decreasing tee is a pipe fitting with a branch port that is smaller than the run ports. From one of the run ports to the other, this form of pipe fitting might contemplate size decrease.
Reducing tees are available in a wide range of sizes. It has configurations for diverse uses in various industries. Other uncommon size combinations are also achievable.  Utilizing component portions of tees, reducing tees, and reducers in addition to the normal sizes.
Uses of reducing tees:
Reducing tees are used to provide high integrity mechanical connections in various pumping applications.
Are widely used for positive pressure and vacuum applications.
Used in ultra high purity systems.
It features unique machining and surface enhancement which can prevent outgassing and inhibit corrosion.
Reducing pipe tees are also used to reduce delivery lines in order to feed icemakers and other applications which require a reducing tee fitting.
It usually provides smooth flow paths and there is no turbulence or entrapments.
Used for waste, water supply.
Used for water, drain pipe , gas , oil etc.
Applications: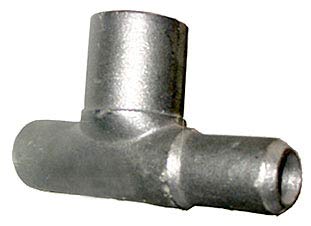 Some popular applications of reducing tee are in the field of:
Food and Beverage
Semiconductor
Life Sciences
Shipbuilding
Chemical Processing
Cooling and Refrigeration
Water Treatment etc.