PVC Ball corks in Kenya
Buy the best quality Ball Corks at Aqua Hub Kenya at affordable prices. We have a variety of ballcocks ranging from 20 mm to 110 mm.
We have both threaded and un threaded ball valves. Our fittings can be used for various purposes ;
To control flow of water into the tank
To control flow of water out of the tank
Ball corks are used in the farms to open and close farm blocks when doing irrigation
They are used to regulating water pressure in and out of filtration system
Ball corks are also used in greenhouses in Kenya to let water in and out
Ball Valve usability
Ball cork is a shut-off valve that uses a valve to control flow of liquids or gas at a given time.
The following fittings can work hand in hand with ball corks ;
Connection from Tank Connector to irrigation water filter-When channelling water through a screen filter or a disc filter, we use Ball corks that are threaded to fit the irrigation water filter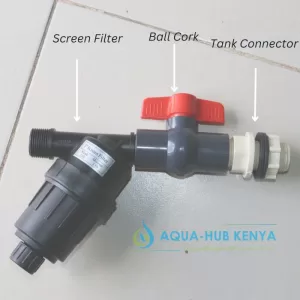 Connection from pipe to pipe (Using Male Adaptors)-

Basically when connecting two pipes and retaining an element of control of the flow we use ballcock together with male Adaptors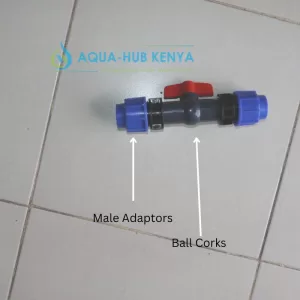 Ball Corks Prices in Kenya
Our ball valves retail at the following prices ;
20 mm – Ksh. 105/-
25 mm – Ksh. 180/-
32 mm – Ksh- 350/-
40 mm- Ksh. 450/-
50 mm- Ksh 650/-
63 mm- Ksh 750/-
90 mm- Ksh. 1,400/-
Where to buy Ball Valves  in Kenya
Aqua Hub Kenya is the place. Find us in our branch networks for ball valves  and other irrigation items such as; Elbows, Tees, Connector coupling, Adaptors, Tank Connectors, Saddle Clamps (Special innovative idea cheaper than HDPE Tee)
In Nairobi, find us along the Eastern Bypass- Utawala next to Lexo Petrol station :

Call |0790719020

In Eldoret (Rift Valley) find us along Nairobi road, Annex Next to MOI University School of Law: Call |