Profiles are metal tubes that attach to the greenhouse frames to hold wiggle wires and greenhouse polythene covers.
Wiggle wires are special zigzag wires that are used to hold greenhouse polythene covers to the greenhouse steel frame or poles. The wires are strong and resistant to corrosion, rust, and break.
Why Profiles and Wires
A greenhouse requires optimal temperature conditions that favour the growth of crops you are growing. Therefore, since the greenhouse polythene cover is a good temperature regulator, it should be held properly to the structure to prevent being blown by wind. Profiles and Wires are the best materials to hold the cover due to its strength to enhance stability and smooth surfaces which cannot tear or damage it.
Specifications of profile steel and wire
Steel profiles are available at lengths of 4m.
Profiles made of aluminium or galvanized steel metals.
Wiggle wires are 2m long and made of galvanized steel with a protective coating that prevents rust.
A steel profile comes with two wiggle wires.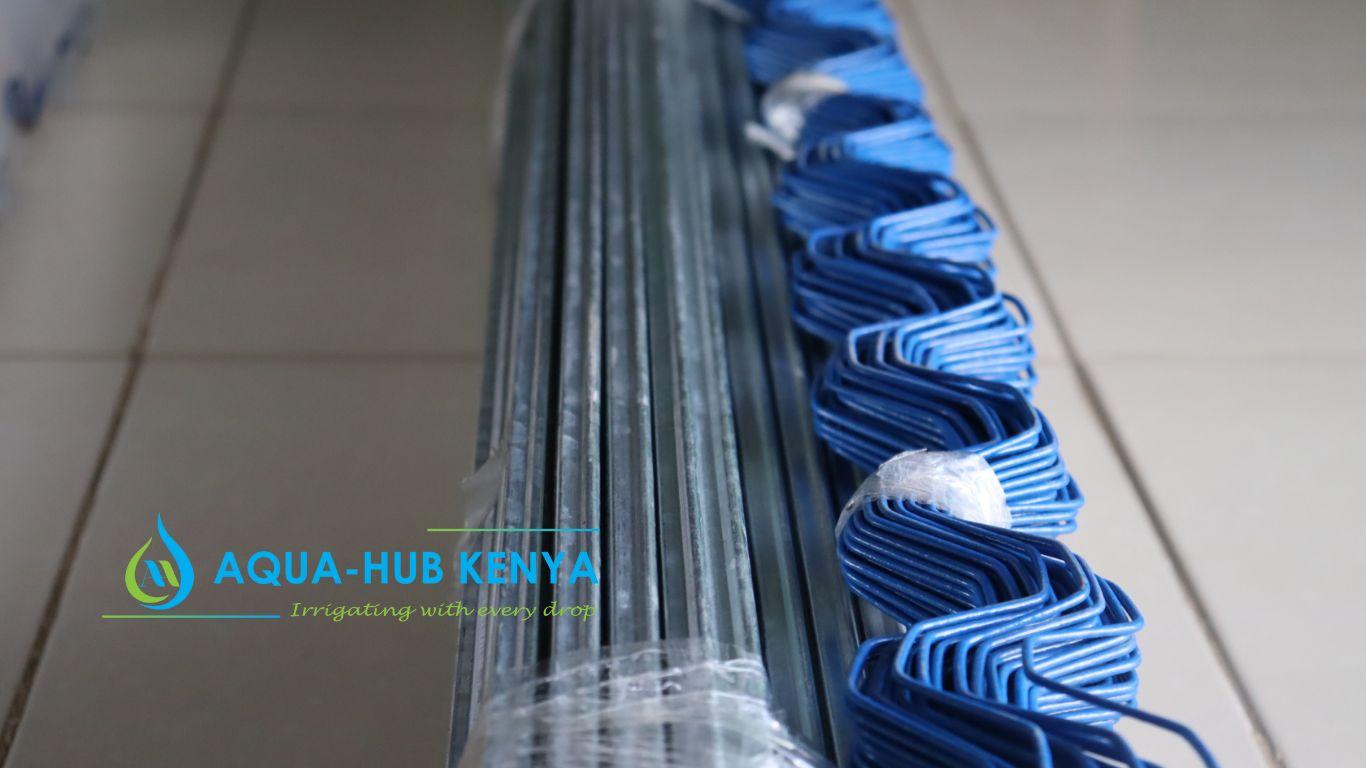 How they work on your greenhouse
Steel profiles are attached to the metallic greenhouse structure using tapping screws.
Tapping screws are special bolts and nuts used to hold steel frames together.
Wiggle wires use a wiggle wire channel or profile to attach two pieces of polyethylene plastic to the sides of the greenhouse, allowing air to occupy the space between them.
As a result, the air cushion regulates temperature by separating the outside and inside the greenhouse.
How to Install Greenhouse Profiles and Wires
Attach profiles on the edges and fix them to the structure using tapping screws.
Attach a polythene
cover on top of the greenhouse structure.
Make two sheets of polythene cover to extend a bit over the ends of the profiles.
Insert one end of the wiggle wire into the channel or profile to hold the two polythene cover pieces.
Twist the wire back and forth in the channel to secure the greenhouse covers.
The bends in the wire are slightly larger than the channel, creating pressure and allowing for a tight, strong bond.
Continue inserting and twisting the entire length of the wire to ensure all the polythene plastic along the channel has been secured.
Choosing Profiles and Wires for your greenhouse
When deciding on purchasing wires and profiles for your greenhouse you must consider the size of your greenhouse structure. We always provide a quote containing all the items you need. However, in case you need a guide the approximate figures are below.
| | | | |
| --- | --- | --- | --- |
| Green House Size (metres) | Number of profiles | Number of Wires |  Number of Tapping Screws |
| 8×15 m | 25 | 50 | 250 |
| 8×24 m | 30 | 60 | 400 |
| 8×30 m | 35 | 70 | 500 |
| 10×30 m | 45 | 90 | 750 |
| 16x30mtrs | 70 | 140 | 1000 |
Advantages 
It holds the greenhouse polythene onto the structure along the entire sides and sidewalls, thus a better and strong structure.
This stronger attachment keeps air and wind from getting under the plastic and causing it to fail, and your plants to die.
The strength of the wire enhances it to hold the cover during heavy winds and hailstorms.
It provides a great alternative to greenhouses with double sheets.
They are less expensive to buy than they might seem, hence you can afford to start a greenhouse project with an installation supported by wiggle wires.
Cost of Profiles and Wires in Kenya
A pack of 1 profile and 2 wires cost KES 500/=.
Where to Purchase Greenhouse Profiles and Wires in Kenya
If you need profiles and wiggle wires for greenhouse construction in Kenya, Aqua Hub is the best supplier to purchase from.
Our wires are durable, affordable, and durable; they enable stability of your greenhouse for a long time.
Call 0790719020