Aqua Hub provides Shade Nets for Chillie farming in Kenya. Our shade nets shield chillies from wind, rain, hail, snow, frost, insects, birds, and other typical weather irritants. Shade nets are provided and installed by Aqua Hub Limited for chilli growing in Kenya. Our shade nets guarantee the development of wholesome, top-notch food that is advantageous to the plants, farmers, and customers. Under specific circumstances, our nets are applicable in greenhouses as ornamental shade nets for chilli farming in Kenya. Their shade coverage ranges from 30% to 90%. Additionally, the nets enhance airflow, encourage light scattering, and maintain a cooler climate. During the off-peak season, shade net is quick and easy to set up and take down.
Why use shade nets for Chillie farming in Kenya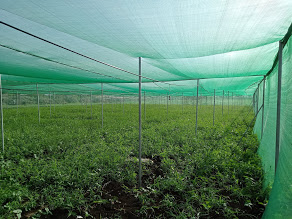 Light radiation is decreased by utilizing agricultural shade nets. Crops that thrive in low solar radiation areas are protected from radiation harm when grown in high solar radiation areas (or during high solar radiation seasons). The yield of such crops may frequently be boosted by using nets with percentages ranging from 30% to 50%. Indeterminate crops can grow under a shadow net. Crops that are heat tolerant may also be planted in the shade or benefit from temporary shade protection during times of intense solar exposure in specific weather conditions. Chillies are among the crops that can benefit greatly from shade netting.
Dark-colored nets, such as black and green, absorb more sunlight, keeping the microclimate cool. As a result, they are more suited to growing crops in the shade, such as green leafy vegetables. Because of the impact of shadow, these crops will have larger leaves, grow higher, have more nodes, and will be able to flourish all year, even in areas with direct sunlight. Lighter-colored nets that reflect rather than absorb light are more suitable for flowering plants.
Features and specifications of shade nets
In Kenya, the Agro shade nets available in the market range from 30% to 90%. The percentage abbreviation is the mesh rate provided by the nets. The main features of our nets are;
They are UV Treated (5 years Guarantee)
They come in Green or Black Colour
Available in 35%, 55%, 75% & 90%
Standard Widths of 4 Metres and Lengths of 50 Meters and 100 Meters.
Shade Nets can be knitted to specified customer needs on request by customers.
Shade Nets Prices Kenya
The cost of shade net varies according to the level of filtration. The Shade Net Price and Cost in Kenya for one with 30% filtration and one with 90% filtration are two completely different things. Depending on the rate of shade net filtration, the prices increase. Our shade net measures 4M by 50M in size. For a shade net size of 4M*50M for the entire net, prices range from Ksh 13,000 to Ksh 30,000. But you can also cut the shade to whatever size you like. In terms of cost per square meter, the prices are as follows: Ksh 70 for 35% shading, Ksh 85 for 55% shading, Ksh 105 for 75% shading, and Ksh 160 for 90% shading.
| | | | |
| --- | --- | --- | --- |
| Shade Rate (Filtration in %) | Colour | Measurements | Price per sqm in Ksh. |
| 35 % | Black & Green | 4 m x 50 m | 70/- |
| 55% | Black & Green | 4 m x 50 m | 85/- |
| 75% | Black & Green | 4 m x 50 m | 105/- |
| 90% | Black & Green | 4 m x 50 m | 160/- |
What are the benefits of shade nets for Chillie farming?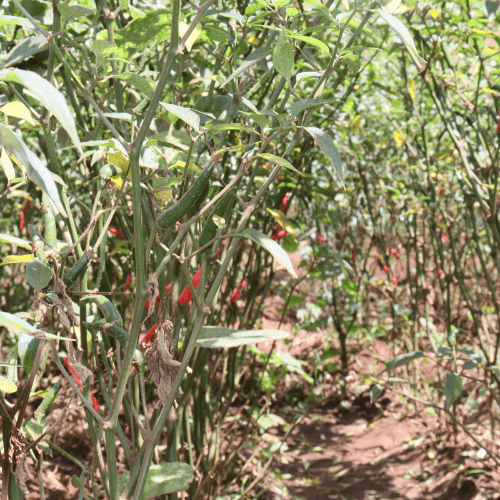 When compared to unshaded plants (0% shading), moderate shading (about 30%) increased total and marketable yields, most likely by alleviating fruit disorders (sunscald) associated with heat stress (reduction in canopy temperature and root zone temperature). It is also worth noting that light shading of bell peppers may be an option for extending the growing season. In a nutshell, the advantages are as follows:
Fruit marketable yield is increased.
Fruit size has increased.
Reduced occurrences of fruit sunburn.
UV rays are prevented from harming plants by reflecting or absorbing them.
Low daytime temperatures cause a decrease in water intake and irrigation water consumption.
Pest control in crops.
Let us help you in your shade net chillie farming in Kenya. Aqua Hub Kenya provides the best and quality shade nets at affordable prices. Our shade netting comes in green and black colors. We have offices in both Nairobi and Eldoret. For additional information, call 0790719020.