HDPE Fittings Prices in Kenya varies with the size and the HDPE fitting to be used. There are some common fittings available at Aqua Hub Kenya, and they have their functions and varied usability.
HDPE Fittings in Kenya
Aqua Hub Kenya offers range of HDPE Fittings according to their usability.
Connector Couplings & Reducers 
They are used to connecting two pipes .  They have the same features at both ends that allow the pipes to be tightly fitted together.
Furthermore, they are available in 20 mm,25 mm,32 mm,40 mm,50 mm,63 mm,75 mm,90 mm&110 mm.
Reducer Couplings 
These are couplings that reduce a pipe from a big size to a small size, for instance (32 mm x 25 mm). Theoretically, this pipe has been reduced from 1 inch to 3/4 inch.
Irrigation systems have various designs and models. In some instances, a tee junction is required to subdivide water into the desired locations. These tees can be male or female depending on how it would be put to use. For a situation where control valve has to be done to regulate the flow to the next block.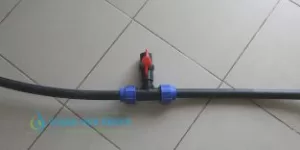 Saddle clamps can be used in place of Tee. It acts as another option whereas HDPE Tee is not available. The only issue with the saddle clamp is that it can only be used with a male adapter.
There is also a wide range of HDPE Fittings by Aqua Hub Kenya.  Adapters are available in male and female . They have various functions :
| | | |
| --- | --- | --- |
| Male Adapters | | Female Adapters |
| Threaded outwards | | Threaded inwards |
| Connected to ball corks | | Connected to filters |
| | | |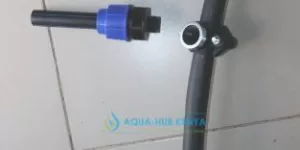 Where to buy HDPE Fittings in Kenya
Visit Aqua Hub Kenya for all your HDPE Fittings Prices in Kenya. We have the best deals and quality in products for irrigation systems and water delivery.
HDPE Fittings Prices in Kenya
| | |
| --- | --- |
| Item  |  Price Range   |
| Tee |  Ksh. 150 – 3,500  |
| Saddle Clamps | Ksh. 80 – 1,500  |
| Adapters | Ksh. 100 – 2,000  |
| End Caps | Ksh. 100 – 550  |
| Connectors | Ksh. 180 – 4,500  |
| Reducers | Ksh. 250 – 6,000  |
| | |
For orders, call: 0790719020