What is the cost of greenhouse? This is a question that several farmers have been asking. The size of the greenhouse is the major factor that determines the price of the greenhouse. There are different sizes of a greenhouse. The smaller the size the more cheaply the greenhouse. Another factor is the material you use to construct the greenhouse. For the materials we have wooden and metallic greenhouses. Wooden greenhouses are cheaper than metallic greenhouses. Aside from the apparent expenditures of this construction project, there are certain other characteristics that are required for a successful greenhouse installation, which might boost the entire cost of the project. These may include the ventilation system, irrigation system, and many other things.
What is the Cost of Greenhouse?
There are many different types of greenhouses on the market nowadays. They come in a range of sizes and shapes, as well as materials and heating processes. Aqua Hub sells metal and wood greenhouses. Our greenhouse prices vary based on the type of greenhouse, the size of the greenhouse, and any other services desired. The costs of wooden greenhouses differ from those of metallic greenhouses.
Metallic greenhouse Cost in Kenya
Steel greenhouses from Aqua Hub are produced to order and assembled as quickly as possible to satisfy farmers' needs. Our steel greenhouses are made of durable, cost-effective galvanized steel. Professionals from Aqua Hub Kenya provide unique structures with stability assurance. Metallic Greenhouse Prices in Kenya cover a wide range.
| | | |
| --- | --- | --- |
| Greenhouse Size | Estimated Crop Population | Cost of Construction |
| ( 8 x 15 ) Meters | 450- 500 | 240,000 |
| ( 8 x 24 ) Meters | 700-800 | 270,000 |
| ( 8 x 30) Meters | 1000-1200 | 365,000 |
| (16x 30) Meters | 1500- 2000 | 700,000 |
Wooden greenhouse Cost in Kenya
Comparing a wooden greenhouse to a galvanized structure reduces the farmer's investment costs in Kenya. Farmers in Kenya have the option of building greenhouses with materials that are readily available locally thanks to Aqua Hub Kenya. Prices for greenhouses in Kenya vary according on size. These greenhouse prices in Kenya will also change based on the size and polythene cover of the greenhouse.
| | | |
| --- | --- | --- |
| Greenhouse Size | Estimated Crop Population | Cost of Construction |
| (8 x 15) Meters | 450- 500 | 165,000 |
| (8 x 24) Meters | 700-800 | 180,000 |
| (8 x 30) Meters | 1000-1200 | 240,000 |
| (8 x 45) Meters | 1500- 2000 | 390,000 |
Construction costs are determined by the size and materials one employs. The framework of the greenhouse consists of the columns, beams, straps, and other elements that hold the roof against wind, rain, and snow, as well as strategically placed devices that support trellising plants, and so forth. The degree of internal flexibility and shading should be kept to a minimum.
Factors in Calculating Cost of Greenhouse
Because there are so many various types of greenhouses to select for your property, there are a lot of variables to consider when evaluating the entire cost. Regardless of the form, the price of a greenhouse is mostly determined by the size and needed growth amenities. A greenhouse might cost more or less based on the elements stated below, such as size, style, materials, and labor.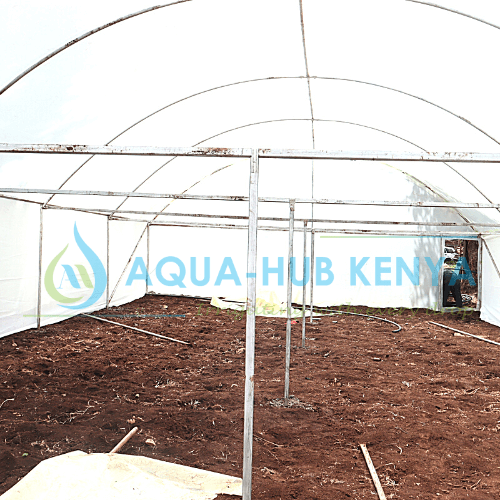 Greenhouse Size
First and foremost, the cost of a greenhouse is determined by its size. The total size of the greenhouse you choose will determine a large portion of the cost. More resources and effort are required to construct a greenhouse as its size grows. 8 by 15 meters will cost Ksh 240,000, while 16 by 30 meters would cost Ksh 700,000 for metallic greenhouses.
Greenhouse Style
Greenhouses can be created in a variety of styles, some more complex than others. A simple greenhouse will be easier to build and maintain than a more complex one. The cost of a tunnel greenhouse will differ from that of a vent greenhouse.
Greenhouse Material
A greenhouse's frame can be constructed from a variety of materials. Galvanized steel is the most costly choice since it is stronger and lasts longer than aluminum but is more expensive. In certain situations, greenhouses may employ wood frame to produce a specific aesthetic, but keep in mind that this material does not withstand the elements as well as metal.
Foundation and Flooring Type
While the earth under many greenhouses serves as the floor, some employ a different material for the floor or foundation. The cheapest alternative is to lay down gravel as the greenhouse floor, followed by rubber matting. Concrete pavers are slightly more expensive, but they are simple to install and may produce a more firm, floor-like surface. For strength and stability, more permanent greenhouse constructions often require a concrete slab base.
Site Preparation
Site preparation is essential if the piece of land chosen for a greenhouse is not clear and level. A relatively steep building site can be leveled with hand equipment such as shovels, but more significant grade adjustments would necessitate the use of an excavator.