What is a Solar Dryer?
Solar Dryer Prices in Kenya ranges between KES. 55,000 to KES.90,000 based on the type required. Along this article, you will find updated costings of solar and commercial dryers in Kenya.
Commercial Solar Dryer in Kenya is a device that uses solar energy and tap it to dry agricultural produce. This includes tea leaves, vegetables ,seeds ,fruits and legumes. A solar dryer is made of using easily available materials such as timber, nails, UV polythene paper, ventilation net and a black sheeting paper.
Solar Dryer Prices in Kenya : Commercial solar Dryers in Kenya
The sole common purpose of solar dryers Kenya is for either commercial use or domestic purposes: Items that can be dried using our solar dryers includes the following;
Drying of fruits using solar dehydrators:
Fruits that can be dried includes; Apples,Quavas,Mangoes, Avocado, Papaya,pineaples,strawberries,dates and bananas.
Drying of Vegetables using Solar dryers 
Vegetables that can be dried, and their value added, includes the following;Tomatoes,capsicum,peas,okra,peppers,mushrooms and corns.
Drying of Grains using solar Dryers 
Barley,Bulgur, also called cracked wheat,Farro,Millet,Quinoa,Black rice,Brown rice and Red rice.
Drying of Herbs using Solar Dryers 
Chilli,pepper,Garlic , organo among others
Meat Drying Using Solar Dryer
Chicken,beef,pork and Mutton
How to construct Solar Dryers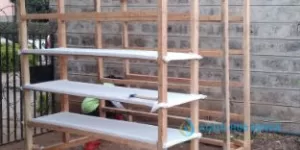 Select a site where to construct the solar dryer with help from Aqua hub Kenya experts.
Choose if it is metallic or wooden structure
Make an agreement with any of our branch for the construction of the solar dryer. Aqua Hub is a reliable supplier and construction of solar dryers all over the country.
Once an agreement is made between Aqua Hub and the client, we deliver the materials after one day of assembling and construction of the solar dryer will be complete in three days.
Types of Solar Dryers in Kenya and Solar Dryer Prices in Kenya
Metallic or Wood Framed Solar Dryer

-Uses greenhouse cover of 200 microns as drying media. The main drying component is strong solar rays.

Solar Link

( Made of special cover that allows huge concentration of solar rays than greenhouse cover)

Hybrid Solar Dryers

– These uses both greenhouse cover of 200 microns and Solar Panels to produce the energy.
The common cost-effective measures of using solar dryers 
It is a cost-effective way of drying agricultural products and reduce wastage. Food can be preserved in a solar dryer for a long period of time.
 It is cost-effective since it does not require electricity to operate.
 Less risk of wastage because produce is dried using natural light compared to modern ways of drying.
Dried produce does not contain any contamination.
It dries faster. I take 1–2 days to dry the food.
Uses readily available materials such as timber.
Solar Dryer Prices in Kenya
| | | | | |
| --- | --- | --- | --- | --- |
| Solar Dryer Size | Drying Capacity | No. Of shelves  |  Wooden Cost   |  Steel Cost  |
| 1.5m X1.5m X 1.5m | 40-50Kgs | 2 |     55,000 |      105,000 |
| 2m x 2m x 1.5m | 50-100Kgs | 2 |     75,000 |      120,000 |
| 2m x 2m x 2m | 90-130Kgs | 3 |     85,000 |      140,000 |
| 3m x 2m x 2m | 150-180Kgs | 3 |     90,000 |      153,000 |
Where to Buy Solar Dyers in Kenya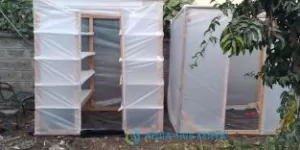 Aqua Hub Kenya limited supplies and install quality and affordable solar dryers all over the country . Get in touch with us for quotation and inquiry through our branches;
NAIROBI: 0790719020
ELDORET: 0759372241