Pop-up Sprinklers for Golf Courses are available at Aqua Hub in sizes of ½ and ¾ inches. We are among the best Pop-up Sprinkler Suppliers in Kenya. Our lawn sprinklers are quality and affordable.
Golf courses generally consist of healthy and green lawns which require a lot of water throughout the year. For uniform lawn growth and coverage, irrigation is imminent to curb the shortage of water during dry and inconsistent rainfall periods.
Generally, golf courses need water at higher flow rates or volume per unit time so that enough of it reaches the soil. Since pop-up sprinklers irrigate at relatively shorter times compared to other surface irrigation methods, water loss to evaporation is avoided.
The quality and growth of various types of lawn will be affected by the amount of water supplied to it.
Factors that affect irrigation of Golf Courses
Soil drainage – The infiltration or water retention ability of your golf course is questionable to determine the rate of irrigation or model to adopt. Soil with less water holding capacity requires more irrigation frequencies plus more water.
Grass type – Lawn species such as buffalo
Topography – The landscape of a lawn field determines the rate of water distribution and irrigation systems to use.
Season – For rainy seasons lawns have enough water for growth hence lower demands for irrigation.
Components of Golf Course pop-up Sprinkler System
Pump Unit
HDPE pipes mainline.
Connectors
Sub-mainline pipes
Hose pipes
pop-sprinkler heads
They have a unique and stable spray head. – Gear drive pop-up sprinkler has sprinkler heads with more efficiency compared to other pop-up sprinklers.
Plastic riser which pops up for 2–12 inches above the ground.
Pop-up Sprinklers have adjustable spray radius. -Spray radius ranges from 6-12 m.
Automated Sprinkler functions. Normally, you will find pop-up sprinklers with timers which can set to operate the pop-ups for a certain period depending on the irrigation needs. Timers enhance efficiency and even distribution of water in the fields. It also reduces labour and time taken to monitor whether all parts of the field have received water.
Ground Covered Sprayer Heads ¾ and  ½ inch sizes
The sprinkler heads are installed under the ground surface so that you can only see the sprinkler heads when it is functioning.
How Golf Course Pop-ups Work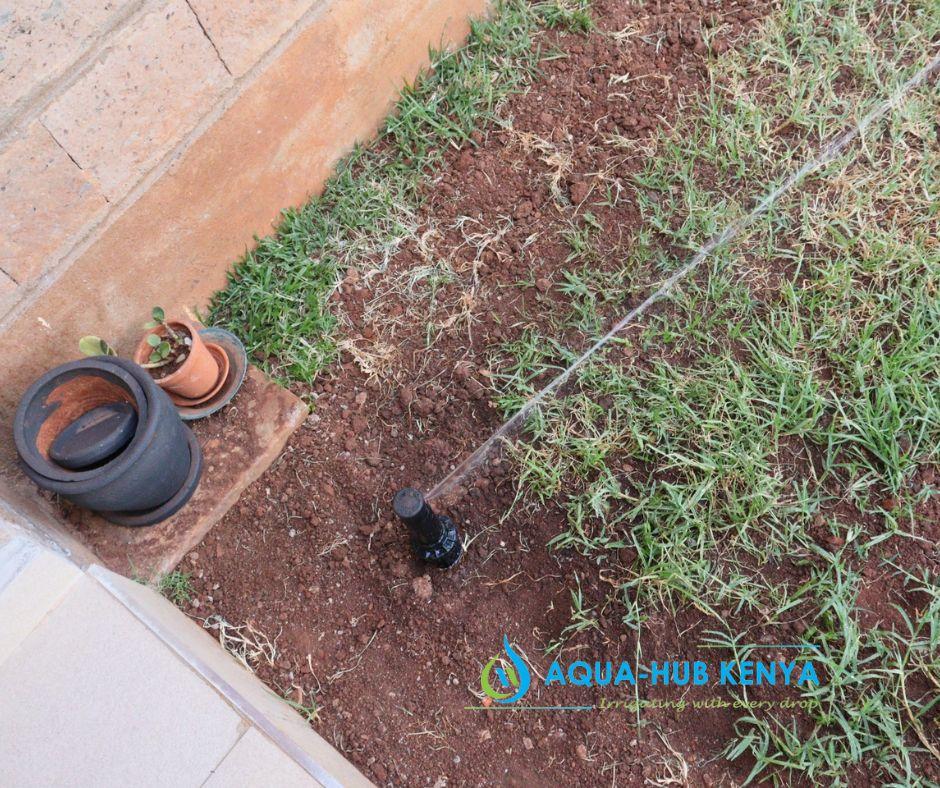 Once you turn on the timer, the sprinkler head pops up and rotates releasing out water. The head automatically retracts when the timer is switched off.
½" cost KES. 2,500
¾" cost KES. 3,700
Pop-up Sprinkler Suppliers in Kenya
Aqua Hub has quality hunter and rainbird sprinklers at affordable rates.
Frequently Asked Questions
What is the best pop-up sprinkler to water golf-courses?
Gear driven pop-ups such as Hunter PGP or Rainbird 5000.
What is the cost of pop-up sprinklers?
½" – 2,500/=, ¾"- 3,700/=
Where can I purchase Quality pop-up sprinklers?
Aqua Hub Kenya
What is the pressure required for a pop-up sprinkler?
1.5-4 bars depending on Sprinkler size
What specifications of Pumps do I need?
A pressure pump of 1 hp is suitable.
How much does it cost to install pop-up sprinklers?
It depends on the size of the lawn.