Sprinkler Price in Kenya. A system where water is applied to the surface in the form of mist or rainwater is a type of irrigation system that farmers consider a rain gun irrigation system. A group of outdoor farmers would term it an overhead irrigation system. Specifically, in Kenya, this is known as a Sprinkler Irrigation System.
Most of the crops using this method are those with hard steam and leafy structures, such as maize, coffee, tea, and pineapple.
Sprinklers can be static and constant in terms of mobility. Those constructed permanently can be used for a fixed section, calculated in square meters.
The farmer pre-determines their irrigation needs. After that, they contact Aqua Hub irrigation for the design and installation of their permanent system.
Portable systems can be done in such a way that the pipes are just suspended and laid on the ground to allow mobility. The farmer can move the sprinklers from point A to point B depending on their irrigation needs.
Advantages of Sprinkler Irrigation system
Its spreads to large areas that would have cost much if another irrigation method was used, such as drip irrigation

Volumes of water used can be controlled upon completion of the irrigation circle.

The areas designated can be irrigated in an angular perspective, as the rain gun allows the setting of angles according to how the land is topographical.

The carrying away of soil can be controlled because the sprinkler has nozzles that are responsible for even distribution of water.

Fertigation can be done in a sprinkler system, the intake of fertilizers can be controlled. The farmer will know when to irrigate and when not to use rain gun irrigation systems.

Rain Gun Irrigation is simple and easy to use

Sprinklers are simple and easy to install

They are easy to maintain because some of their parts are available locally and easy to fabricate
Disadvantages of Rain Gun Irrigation System
This method uses a lot of water, especially where huge rain guns are involved.

Hurting of the crop leaves can be experienced if the activity is done in scorch sun conditions.

The method is affected by climatic conditions, i.e., During harsh climatic windy days, water sprays can't be dispersed uniformly.

The system can be costly

It can also be expensive to install and run on huge farms where power is needed.
Where can I buy Sprinklers for Sale in Nairobi?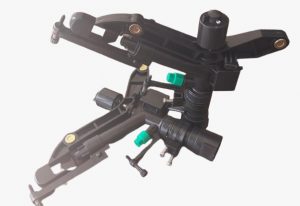 Aqua Hub Kenya, Nairobi, and Eldoret are the one-stop-shop for sprinkler irrigation. Our range is from Rain guns, Impact sprinklers, Plastic sprinklers, Low-pressure sprinklers, Sprinklers for Lawn (Pop Up sprinklers)
How to install Sprinkler Irrigation System
Develop the Agricultural or Lawn need for the sprinkler system

Contact Aqua Hub Kenya for site visits

Calculate the area to be subjected to irrigation

Conduct the design with the help of technicians from Aqua Hub, Kenya

Extract the ground upon which the irrigation pipes will be laid

Conduct the connections from the main pipes using Saddle clamps or Female tee to the base stand of the sprinkler

Adjust the sprinkler stand to allow piping

Adjust the angle of the sprinkler to suit the area to be irrigated

Make sure all the valves that control the flow have no leakages

Launch your sprinkler systems

Give feedback to Aqua Hub Kenya Limited
Sprinkler Price in Kenya?
Features
Price
Model:SMAO-20-2H
500
Materil:Metal Alloy
Inlet Size:3/4 inch DN20
Flux:0.8-1.8 M3/H
Spray radius:8-15 Meters
Pressure:1.5-3 Bars
Angle of Rotation:360°
Model:SMAI-25-2H(NPY20-2H)
4000
Materil:Metal Alloy
Inlet Size:1inch DN25
Nozzle Dia:8mm
Flux:20-60 L/Min
Spray radius:12-17 Meters
Pressure:3-5 Bars
Angle of Rotation:360°Angle can
be controlled
Model:SMAI-40-2H(NPY30-2H)
7000
Materil:Metal Alloy
Inlet Size:1.5inch DN40
Nozzle Dia:10mm
Flux:62-310 L/Min
Spray radius:16-30 Meters
Pressure:3-5 Bars
Angle of Rotation:360° Angle
can be controlled
Model:SMAI-40-2H(30PY2H-27°)
9000
Materil:Metal Alloy
Inlet Size:1.5inch DN40
Nozzle Dia:10mm
Flux:7-9 M3/H
Spray radius:23-25 Meters
Pressure:3-5 Bars
The angle of Rotation:360°Angle can
be controlled
Model SMS-15
2500
Material Metal
Inlet Size:1/2 inch DN15
Height:530mm+350mm
Sprinkler Stand
Model SMS-25
2500
Material Metal
Inlet Size:1inch (2.54 cm) DN25
Height:1.2-1.3 m
Sprinkler Stand
Model SMS-40
2500
Material Metal
Inlet Size:1.5 inch (3.81 cm) DN40
Height: adjustment freely
Sprinkler Stand
What is the difference between Sprinkler Irrigation & Drip Irrigation Systems?
Sprinklers Irrigation system is used for commercial agriculture where the crops require large volumes of water intake, while drip irrigation is for those crops where water can be regulated.
Sprinkler Price in Kenya is not overrated, it's affordable because all farmers are adopting.
Other products from Aqua Hub Kenya are; Seedling trays, Dam Liners, Green House Polythene in Kenya, Shade Nets, and Drip Lines