Shade Nets Kenya
Shade Nets Kenya| shade net prices in Kenya |Aqua Hub Limited have light quality nets made of HDPE material resins. We sell our shade nets at affordable prices to our clients in full standard sizes. Agricultural shade nets in Kenya can also be recycled or replaced when it gets old or torn.
Shade net prices in Kenya vary because of their different rates
Shade nets are for multiple purposes. In case you stop planting of seedlings, you can use it in poultry farming or fencing solar dryers.
What you should Know
Firstly, All you need is a clear understanding of agricultural shade nets and its functional expectations for well-informed decision-making.
Secondly,Shade nets offer sunlight entry at various levels determined in percentages. The amount of sunlight that is trapped by shade nets is estimated by the percentage knitting on the shade nets.
Furthermore,the percentage of mesh on shade nets in Kenya is equal to the percentage of sunlight penetration of the net. In addition, This is because all holes on each shade nets have the same size.
Finally,The patches or surface knitting on the nets are the opaque sunlight blocking surfaces but allow some amount of sunlight to pass through it.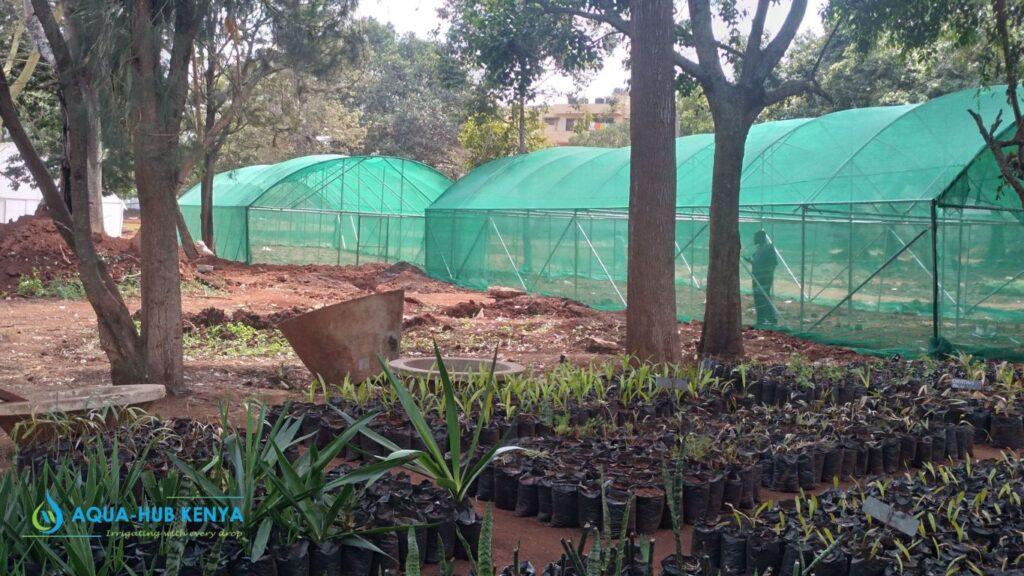 Shade Nets Filtration Levels
Shade nets are available at mesh percentages of 35 %, 55 %, 75 % and 90 %. All these filtration levels of nets are good but useful for different plants that require shade nets ;
35 % nets are for plant or tree seedlings.
55 % nets for medium-sized plants with medium deep roots.
75 % requires growth of low sunlight plants or flowers.
90 % nets for plants with low sunlight needs. Shallow rooted plants such as millet, grass.
Basically, those are the available shade nets in our office outlets. However, clients can place orders of their choice because we tailor make shade nets to suit their requirements.
In order to construct a good shade house for your nursery, follow the steps below;
Shade net prices in Kenya
| | | | |
| --- | --- | --- | --- |
| % Shade | Weight Per Meter Square In Grams | Cost Per Meter Square |  Cost per Acre In KES |
| 35% | 65 | 70 |                    285,000 |
| 55% | 84 | 85 |                    350,000 |
| 75% | 110 | 100 |                    410,000 |
| 90% | 153 | 180 |                    660,000 |
Where to Buy Shade Nets Kenya
Aqua Hub Kenya has all shade nets rate|shade nets in its shops at Eldoret and Nairobi. Also, we supply East Africa at large
Normally, we assist farmers to choose and build an effective shade net structure for a robust crop planting for current and future dynamic production.
Once we eventually undertake your shade net construction,obviousely we give you a quotation of all the material requirements for the start and finishing of the project.
You can always rely on our information, for the purpose of agricultural shade nets in Kenya materials in the set-up and maintenance of Shade houses.
In summary, our shade nets can be used for the farm for general purposes. The most important message in the long run is that our Nettings do not fade in spite of harsh sunlight,radiation.
Another key point is that greenhouse polythenes in comparison to shade nets can serve the same purposes but for different instances. As an illustration, Aqua Hub. Limited uses Nettings from time to time for the purpose of greenhouse ventilations.  
Call 0790719020 for an order . You can email us through info@aquahubkenya.co.ke.